What Is Nailfold Capillaroscopy?
Nail fold capillaroscopy uses a microscope to allow the  analysis of the morphology and microcirculation of capillaries in the nail fold. This efficient and  non-invasive method  is frequently used to examine and identify  microangiopathy and microcirculation abnormalities related to diseases like Reynaud's phenomenon, systematic sclerosis, digital ulcer and others.
Capillaroscopy is increasingly being recognised as a means of  detecting  rheumatic diseases at an early stage and even of predicting tendencies for such diseases.
Modern capillaroscopy systems  harness digital video camera and computer technologies  to provide a very flexible and powerful solution compared with standard optical microscopes. A system that has been especially designed and optimised for nail fold video capillaroscopy (NVC),  provides the physician with a comfortable, quick and consistent  means of  examining patients. Furthermore it usually facilitates easy documentation and follow up comparison of results.
 Digital NVC is an efficient method to examine and analyse micro circulation abnormalities such as:
Systematic Sclerosis
Mixed and Undifferentiated Connective Tissue Disease
Systematic Lupus Erythematosus
Antiphospholipid Syndrome
Juvenile Connective Diseases
Psoriasis / Psoriatic Arthritis
Rheumatoid Arthritis
Sjögren's Syndrome
Digital Ulcer
Dermatomyositis
Literature
Published material about nailfold capillaroscopy.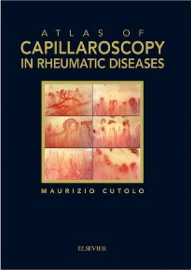 Atlas of Capillaroscopy of Rehumatic Diseases
M Coutolo
Complex Raynaud's phenomenon: evolving concepts of management.
Florian MP Meier, Marc Frerix and Ulf Müller-Lander
State of art on nailfold capillaroscopy: a reliable diagnostic tool and putative biomarker in rheumatology?
M Coutolo and Vannesa Smith
Predictive role of capillaroscopic skin ulcer risk index in systemic sclerosis: a multicentre validation study
M Sebastiani, A Manfradi et al.
Nailfold capillaroscopy for day-to-day clinical use: construction of a simple scoring modality as a clinical prognostic index for digital trophic lesions
Vannesa Smith et al.